Within the first half of the municipal term, the municipal council is to issue a draft strategy for planning in the specific municipality. Also, the municipal council may prepare and issue such draft when deemed necessary or expedient. The 2020 Planning Strategy sets the stage for how Avannaata Municipality will revise its town plan.
Status of the 2017 Planning Strategy
The 2017 Planning Strategy formed the basis for the 2020-2030 Town Plan for Avannaata. That planning strategy aimed at:
Increasing focus on developing tourism throughout the municipality
Increasing focus on developing infrastructure with a view to expanding the airport in Ilulissat and boosting infrastructure throughout the municipality
Increasing focus on expanding and developing Ilulissat by zoning new urban areas
Increasing focus on business and industry by zoning new industrial areas and strengthening fishery
2021-2033 Town Plan for Avannaata
With present planning strategy, the municipal council wants:
To prepare a sub-revision of the town plan, covering the next 12 years
To adopt a new vision, new values and new strategic focus areas for the revised town plan to be based on
To have the current municipal council hand over a revised town plan to the future municipal council
2020 will also see a debate about a structural plan for urban development in Ilulissat, which will be implemented in the town plan for Avannaata to serve as an actual spatial planning basis for town development.
Since the 2017 Planning Strategy, legislative changes have been implemented, resulting in new conditions for land allotment practice. The town plan provisions on land allotment will be carefully reviewed and updated, if needed.
Following approval by the municipal council, the revised town plan, the 2021-2033 Town Plan, will be circulated for an eight-week public consultation, during which the citizens of the municipality can submit their opinions.
Sector activities and plans
The planning strategy also provides input to individual sectors. Each focus area is supplemented by specific objectives for sector activities, thus forming the basis for preparing future municipal sector plans.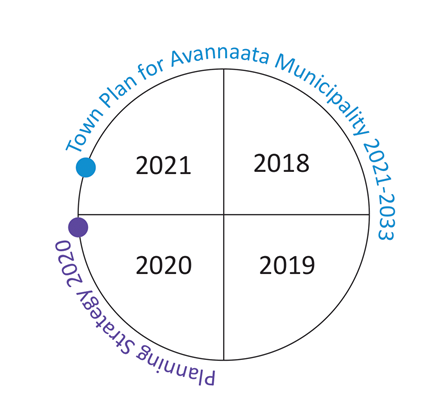 Annual cycle for revision of the town plan - cf. Greenland
Parliament Act no. 17 of 2010 on spatial planning and land use
(chapter 7, §§ 34-36).