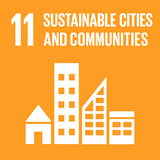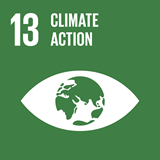 Global warming is causing climate change across the world, not least in Greenland, where you can see and feel the consequences. Temperatures and rainfall will increase, and the extent of sea ice will reduce, which affects our flora and fauna, infrastructure, businesses and so on. We must take steps to minimise the impact on our climate, but the main priority is to increase our capacity to withstand increasing volumes of water and implement different planning to avoid damage to the built environment.
Mapping of risks
Several risks are linked to climate change. Among other things, it is assessed that water levels will rise globally in the years to come due to glaciers and ice caps melting. As water levels rise, the risk of storm surge also goes up. That means that when planning construction and building projects in the future, we must consider their location carefully. We will also prepare risk assessments in connection with buildings by the coast, map risks of flooding and erosion, and prepare emergency plans in case of natural disasters.
Resilient solutions
Research shows that temperatures are rising, which also means that the number of days with temperatures around the freezing point will most likely go up. That may pose problems, because temperatures fluctuating around the freezing point can cause slippery roads and pavements. Therefore, we must come up with solutions to ensure better traffic safety on icy roads.
Dog sledding is also challenged by days with temperatures around the freezing point, since crusts of ice may form on the snow, which is hard on the dogs' paws. Dog sledding on the sea ice is also challenged, since the extent of sea ice decreases year by year and becomes less safe to ride on. Therefore, we must be innovative and identify new solutions for preserving the strong tradition of dog sleds in North Greenland.
We have seen a clear rise in the number of precipitation days in recent years, and this trend will most likely continue. Heavier and extreme precipitation will put a strain on our sewer system, roads and ditches, so we must work to optimise systems to enable them to handle the increasing volumes of water.
We must also ensure that our buildings are able to withstand climate change in terms of both materials and locations. Many of our roads and buildings are constructed on permafrost, which acts as a hard and stable basis. Studies show that permafrost thaws much faster than expected due to global warming. That affects the foundations of houses and roads, which will suffer settlement damage. With that in mind, we will choose robust solutions and construct buildings on bedrock when possible.
Identify and utilise new possibilities
The warmer climate not only has negative consequences for the municipality; It also offers new potentials. The longer periods with ice-free sea allow for new supply and transport options, which may help develop our businesses and cohesion in the municipality.
Furthermore, the warmer climate extends the construction season. Therefore, we will continuously revise our annual planning according to the new circumstances. We will identify potentials to benefit from the circumstances.
The World Heritage Site Ilulissat Icefjord has become a symbol of the effect of climate change due to the obvious withdrawal of the Sermeq Kujalleq glacier. That makes our municipality an interesting destination for research and communication about climate change. We will continue to support research projects and knowledge sharing about climate change, e.g., through the coming Icefjord Centre.
The town plan will work to:
Zone new areas while taking storm surges and permafrost into consideration
Construct foundations for houses and roads while taking permafrost into consideration
Ensure that materials and construction methods are able to withstand climate change
Plan sled tracks while taking climate change into consideration
Upgrade ditch systems to drain off surface water and meltwater
Sector activities will focus on:
Preparing emergency plans for natural disasters
Identifying and supporting new climate-related development opportunities